I have chosen three artists who are 'emerging' into the market for very different reasons. These are my three picks from Frieze London, Frieze Masters and Sunday Art Fair.
Frieze looms larger than the contemporary art tent set in Regent's Park. Gallery exhibitions open up during the week; alternative commercial fairs target every single angle in the market; auction houses bring out the guns and an endless programme of events and talks makes it all the more frantic. The more the week threw at the me, the more restrained I felt I had to be with my choices.
Pictured above is a limited edition lightbox of 10 by Marguerite Humeau (b. 1986, France) commissioned by Nottingham Contemporary on the occasion of her exhibition earlier this year and it is offered at Sunday Art Fair for £1,500. The young London-based French artist embarks on epic quests on the origins of life, growing out of conversations with zoologists and other experts. The work titled FOXP2 (Mutation) depicts the moment when a gene – FOXP2 – mutated, allowing our ancestors to develop language.
Not all emerging artists are young. A pottery collection by George Ohr (b. 1857 – 1918, USA) is exhibited no less than at Frieze Masters with The Gallery of Everything, starting at $10,000 each work. In the late 1800s, self-taught potter George Ohr revolutionised ceramics. Their radical shapes and modern glazes challenged not only the art establishment, but also the cultural conventions of the day. Ohr's proto-abstract experiments proved too unpalatable for local taste. His legacy remained unrecorded in the history of American art until it was rediscovered by his descendants and heralded as an unsung pioneer of modernist making. Ohr was collected and championed by David Whitney, Andy Warhol, Robert Rauschenberg and Jasper Johns as well as national collections like the Metropolitan Museum of Art in New York and The Smithsonian. Ohr is a largely unknown artist in the UK and these pots deserve to be looked at.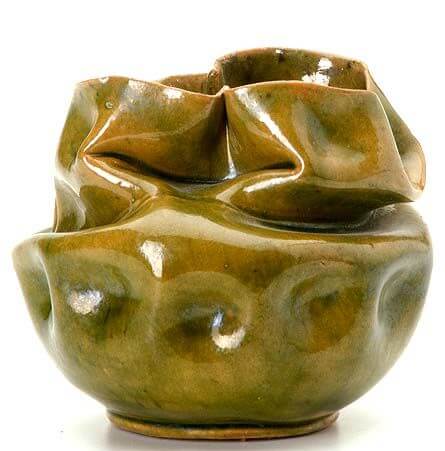 Betty Tompkins (b.1945, USA) paints photorealistic and serene close-up acts of sex, pleasure and desire. She carefully re-assesses actual pornographic images from the 60s and 70s, reframing, cropping and monumentalising them. This is a rare chance the see her work, reassessed as a pioneer of feminist art. Rejected at the time not only by institutions and the male-dominated art world, but also by the mainstream feminist movement – which regarded pornography as a vulgar extension of patriarchy – Tompkins' work has been marginalized for more than 30 years. Only recently, art critics and museum shows have helped to establish the ground-breaking role of Tompkins's practice in representing sexually explicit imagery from a woman's perspective.
As the market plays catch up with this experienced artist, Galerie Andrea Caratsch presents a series of nine works painted between 1969 and 1974 as part of the curated section 'Sex work: Feminist Art and Radical Politics'. The painting below features in this section and can be acquired for $40,000. For smaller pockets, the preparatory drawing offered by PPOW Gallery is priced at $10,000.
Frieze London, Frieze Masters and Sunday Art Fair are open until Sunday 8th October.
SaveSave
SaveSave
SaveSave
SaveSave
SaveSave
SaveSave
SaveSave
SaveSave
SaveSave