There are a number of must-attend international events in the yearly art calendar and Berlin Biennale is one of them. For anyone interested in seeing artists at an early stage who are laying the ground to potentially shape the art world in the future, this is it.
The 9th Berlin Biennale opened to the public last Saturday on June 4th. Curated by DIS collective, the biennial brings in the flesh a young generation of artists working on the so labelled post-internet art and digital media. DIS got art world attention with their online platform DIS magazine, a chameleonic project that encompasses art, fashion, music and culture from an artists' generation extremely self-aware of a globalized content production, commerce strategies and communication channels as well as the political and social structures that seem to be trite and obsolete and yet inescapable.
Berlin Biennale takes place in different spaces and venues throughout the city in each edition. DIS have chosen the hidden and inconspicuous; the overlooked sitting behind touristy and prominent façades. Set in the heavily historical and politically charged Berlin, the biennale reflects the growing social tension that comes of a post-growth, post-national, post-consumer and potentially post-capitalist society that we are jarringly screeching into. Combining themes of blockchain, the sharing economy, internationalization, immigration, displacement and consumption, there is a savage overall comment on the current state of society and its intrinsic contradictions. There is little proposed way out and the future feels virtual, hedonistic and self-centered. There are artistic propositions that offer a humane, tender and vulnerable perspective. I would like to highlight some of them.
Cécile B. Evans' is the largest space in the biennale dedicated to a single artist installation. The visitor enters a dark room with a totemic screen on the end wall, only accessed by a long platform surrounded by water. The screen has a sequence of short animated films with no clear narrative. A soft, if robotic, voiceover tells a series of inspirational, and meditative mottos accompanied by grand landscape visuals and spotless grand real estate designs. A modern cathedral feeding our narcissistic fantasies, dreams and aspirations and leaving us in awe.
∗∗∗
Josephine Pryde's series of hand close-ups are shown in a bunker-like space at The Feuerle Collection alongside a miniature train that can be mounted on to enjoy the flow of the images' sequence. These photographs display tender daily gestures. The hands stage mundane encounters with technology, clothes, pressed against the body, next to aging hands, etc. They are self-conscious hands. There is awkwardness and vulnerability in these gestures.
∗∗∗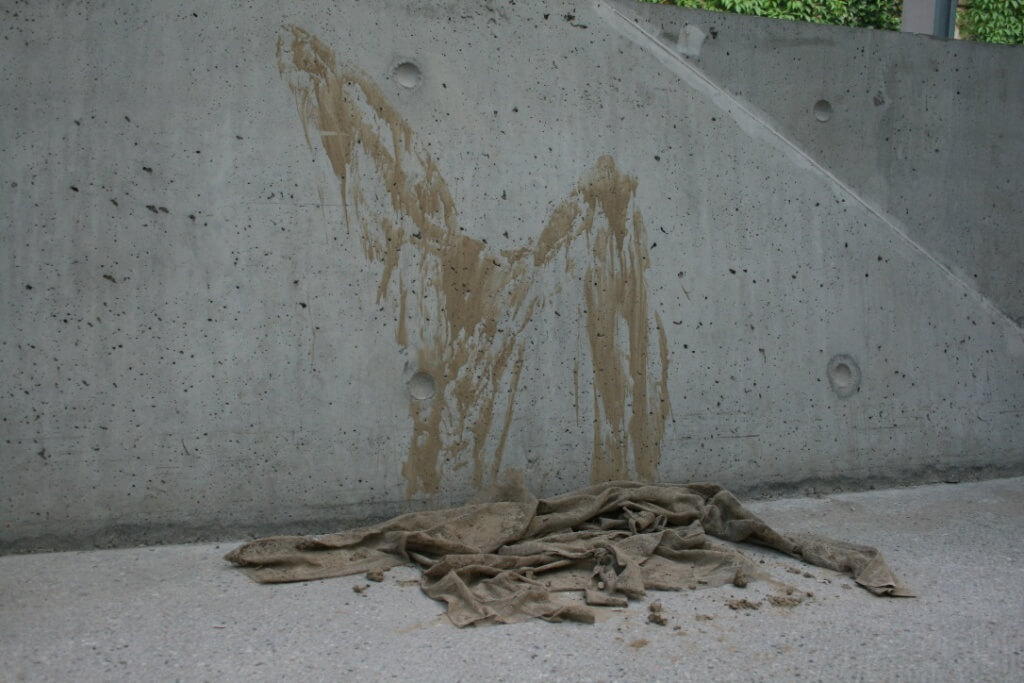 Centre for Style, run by Matthew Linde, brings together artists and fashion designers who do not produce traditional fashion lines. On a runway-like platform, sculpture, photography, garments and remnants of an imaginary fashion show are on display. The absent human body has a ghostly presence. Fashion, its props and debris embody a performative critique on excess and consumption.
∗∗∗
The most direct comment on immigration and specifically the Syrian refugee crisis comes from Halil Altindere with Homeland, a music video featuring rapper Mohammad Abu Hajar. Filmed in Turkey and Germany, it spotlights the experience of forced migration. We are turning a blind eye and future generations won't judge us kindly.
All images © Marina Ribera Iñigo