It is not mere provocation. It is carefree, almost innocent. This new generation of artists is bringing on the revival of art produced based on feeling, intuition and impulse that the art world has been longing for.
It was 2012 and Eddie Peake led the way into the queer, camp, eroticized, theatrical and fetish. While studying at the Royal Academy Schools in London, Peake staged Touch (2012), a naked five-a-side football match in Burlington Gardens where the two teams were differentiated only by their socks and trainers. Together with Prem Sahib, both are the most recognized names of this generation of artists in their 30s.
Sahib exhibited at the ICA last year with a hermetic, cool and crisp aesthetic. His hand-painted rain drops on metallic surfaces are a sensual evocation charged with nostalgia. His glossy tiles and metallic surfaces create viewer reflections throughout the exhibition as a reminder of our own viewing.
The Evening Standard covered all the gossip a few days ago. I'd like to talk about the art they are producing. I visited Frieze last week with clients, friends and family. The solo booth at Southard Reid Gallery by Celia Hempton kept coming up in conversations. Two magnified paintings of male genitalia in close-up. They are staged in dialogue with each other.
Nudity is highly contested. It needs to feel justified, otherwise it risks being labelled as puerile and vulgar. Hempton's nudes explore transgressing on spaces of intimacy with an idealized eye. Her homoerotic paintings with pastel pinks and a smooth surface are decidedly kitsch and camp. They are soft and untroubled, like cheeky cherubs plotting mischief in Mars and Venus (c. 1485, Sandro Botticelli) at the National Gallery.
If you missed Frieze, you can still catch two solo exhibitions by George Henry Longly at Studio_Leigh and Edward Thomasson at Southard Reid Gallery, both on until October 29. The work of both artists is rooted in performance. It is decidedly physical, with the potential of becoming sexual. In Henry Longly's Indiscretion exhibition the tactile nature of the copper table and the marble sculpture as well as the theatrical arrangement of objects create a mise-en-scène of rituals and offerings, of fetish and desire. The attention to detail, craftsmanship and materials shines as much as the exhibition's conceptual framework.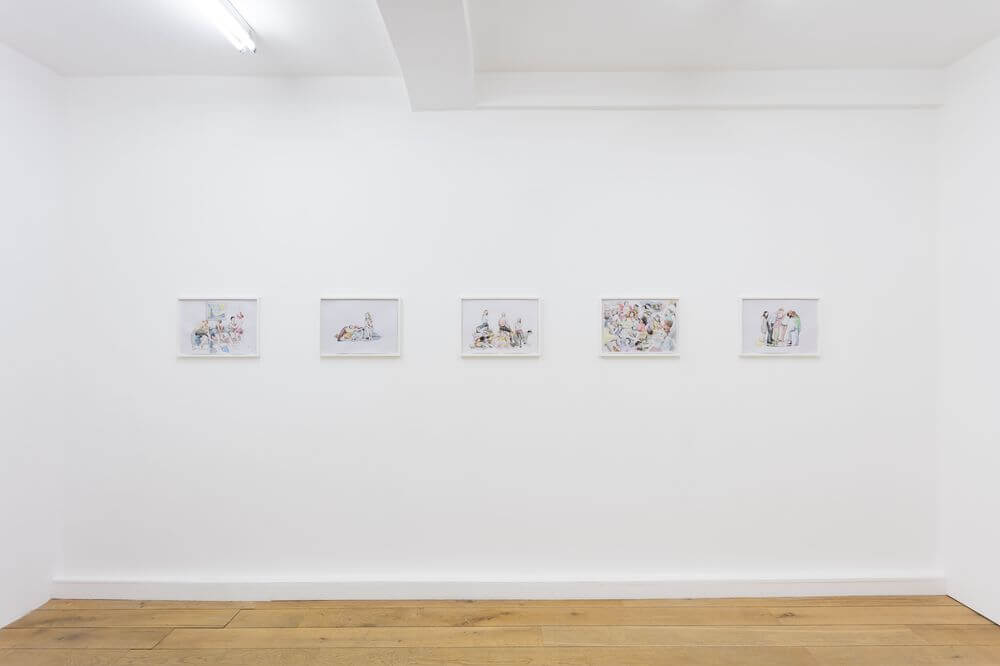 Thomasson's Other People exhibition includes works on paper alongside Pressure (2016), a new video that explores how feelings are managed and organised in mutually beneficial relationships. The video was recorded on the set of his play Volunteers (2016), which took place at David Roberts Art Foundation in April this year. The play as well as the video show fictional situations in which people voluntarily allow themselves to be used by other people.
I welcome the swift of art's performative nature from participatory to self-conscious voyeurism. This new generation of artists are leaving behind encouraging the viewer to push buttons for a flap to open in favour of an audience aware of its own viewing. The viewer is not a participant, instead, we are on display.