I met Egle in her studio in central London a few weeks ago, previous to the opening of her solo exhibition Malnutrition at Galerija Vartai in Vilnius (Lithuania) earlier this week. She also has a work included in a current group show at Barbican Arts Group Trust in London, a plate of lemons that vibrates in the studio, waiting to be collected.
Awarded the David Hockney Art Foundation Scholarship in 2015 whilst studying MFA Painting at the Royal College of Art in London, Egle's practice is an ongoing investigation into the history of painting, male portraiture, gender power relations, and the relationship between truth and appearances. Our conversation jumps from the concept of desire, symbols of power, men's psychology and its representations. We quickly find common ground on our shared belief that current feminist arguments seem irrelevant and misplaced whilst the underlying problems remain unchallenged.
"I often call the National Gallery a massive Instagram platform. During the Renaissance period, all sorts of fictions were created too: a false physical representation of the world, the concept of the artist as a celebrity, oil painting was used to commission portraits of men as the ultimate status symbol and individuality was exaggerated. That took me to how to create the portrait of a man through the concept of a cake. Chefs are so praised for their mastery, their vision, their success, etc."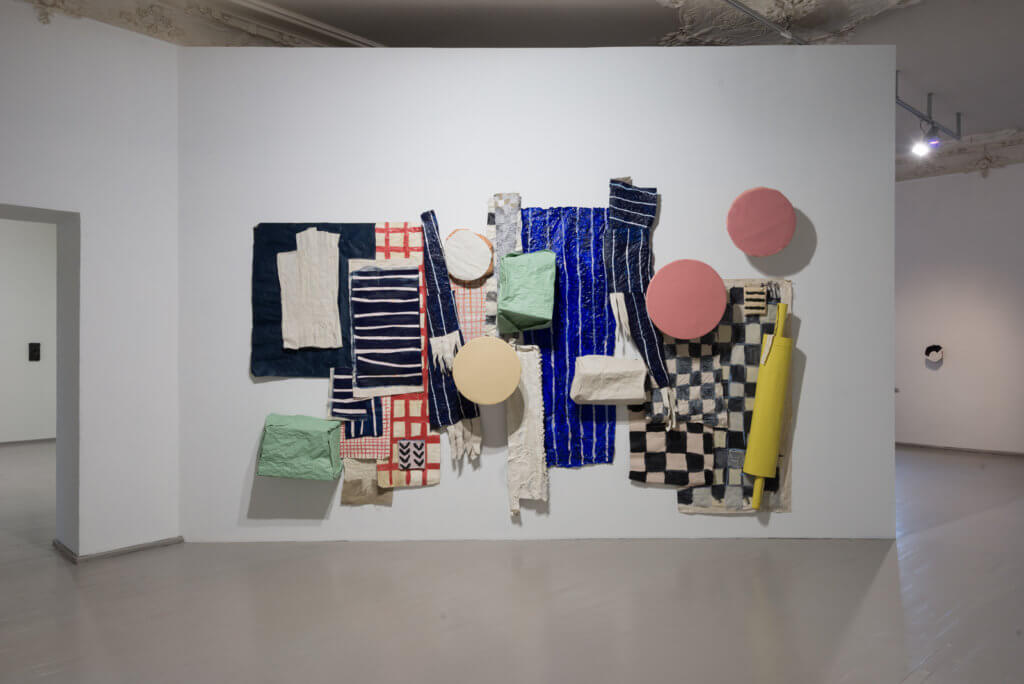 In Malnutrition, Egle depicts pastry chefs and cakes to lay the ground for our relationship with temptation and resistance. "The courtship rituals of rejection and approval are intrinsic to a definition of art itself, its value and the act of collecting." says Alex Meurice in his text for the exhibition in Vilnius. Indeed, desire is a charged raw instinct that plays with our rational beings. We desire what is hard to attain; we expose ourselves to the desired object even when it is unattainable; we make ourselves overwhelmed with choices to end in despair because we can't choose. Desire creates ambiguities and also contradictions: do we need it? Is it bad for us? Food is a preamble for desires that seek fulfillment maybe in sex, danger or also through art.
"I am interested in canvas and how an oil painting can be retransformed by using very traditional materials. I use basic oil painting, what Rembrandt would use, restricting myself very much. I would love to use Jesmonite, marble, even video… but I tell myself to explore oil painting because the opportunities are vast."
For the last 6 years, Egle has been visiting The National Gallery in London to draw on the symbols of power in art as well as the personal tragedies and ambitions of those portrayed. She undresses, fragments and deconstructs poses, gestures and the exposure and exaggeration of wealth in order to construct and recreate a new portrait. Her practice always starts with drawing and it retains a performative quality. Final works take the form of a hybrid in-between painting and sculpture with a roughness and carelessness about beauty.
"It was with At the Turkish Bath (1976) by Sylvia Sleigh; the way she depicts male nudes. She was a great example of love and compassion towards her previous sex partners, brothers and her husband. She had all these men in the room. They all were naked and she just painted them. I thought that was the approach I liked. That is why I started being interested in the portraits of men and then the historical discourse came into place"
Feminist concerns were the reason Egle started visiting The National Gallery. However, these ideas don't run across her work explicitly. They inform the way in which she intends to create a dialogue between the viewer and her work. An artist who doesn't bank on trends, with a strong will to understand materials, exploring art history and with an empathetic approach to gender and power relationships make her one to watch.
"The National Gallery is always a safe space for an artist, away from the pretensions of the contemporary gallery. I feel touched by the white male who doesn't know its place any longer. Why all the dissatisfaction and anger against men when I am seeing all these sad portraits? If I took Lacan's ignorant vagina seriously, I would be angry too but I can't. I already have an amazing image in my head about it. I am more interested in humour than anger."
Malnutrition, Galerija Vartai, Vilnius (Lithuania) until 5th January
ArtWorks Open 2017, Barbican Arts Group Trust, London, until 10th December
Egle Jauncems (b.1984, Lithuania) works and lives in London. Prior to beginning her first BA degree in Sinology at Vilnius University, she was closely involved in the alternative music scene in Vilnius as a recording and performing artist. After 4 years exploring and living in the Far East, Egle moved back to Europe where she gained her second BA degree from Chelsea College of Arts in 2013. In 2017 Egle completed her MA degree in Painting at the Royal College of Art. Recent shows include Dausuva, Martynas Mažvydas National Library of Lithuania, Vilnius (2017), Cybernetic Meadow, Averard Hotel, London (2016), Demimonde, Amberwood House, London (2015), Khobz, Marrakesh Biennial (2014).